How to whiten your nails?
We use our hands to take care of our face as well as our bodies.
So isn't it only fair to give our vital tools some love and care too?
These simple tips are the best treatment you can give your hard-working HAND & NAILS during this time. These home remedies are a perfect blend of ingredient that is easily available at your home and are super effective in treating your tired hands. So do give these try.
Here's easy to follow yet effective hand care routine that will make sure your hands stay soft and supple all year round!
7 Quick and easy home remedies for a soft hand.
Cleanse
Just like any other routine, always begin with giving your hands a good wash! For a manicure like cleanse, fill a bowl of lukewarm water and add some gel powder to it.
The powder turns into a squishy gel-like consistency which removes all the dirt from your hands leaving them smooth and soft.
Scrub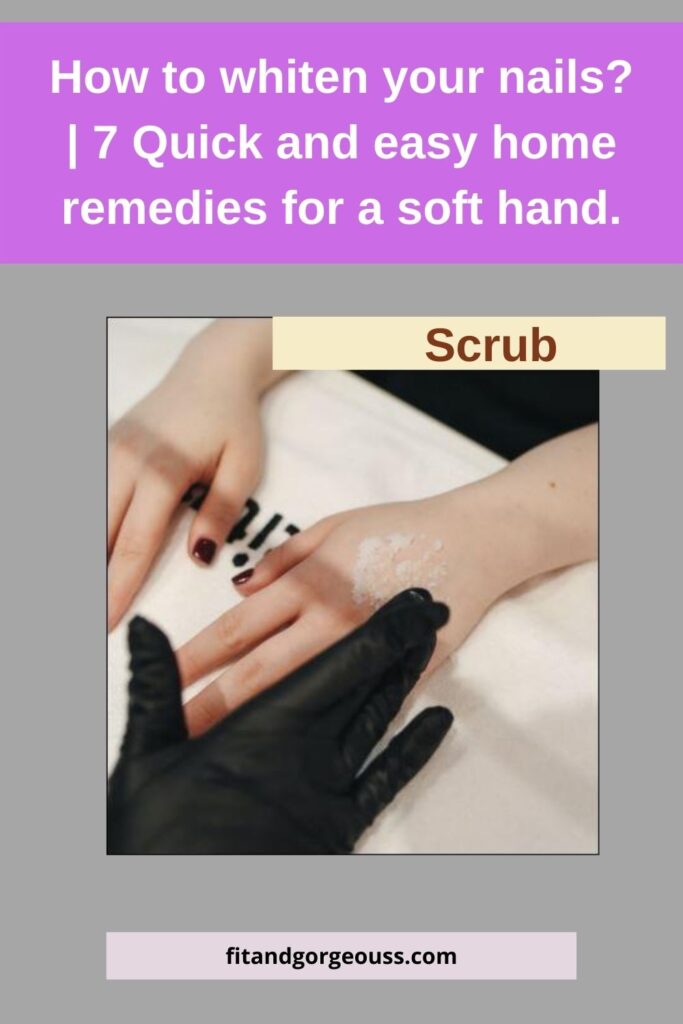 Our hands are one of the first places where aging can show, so a regular scrub is a must. For this quick DIY, all you need to do is reach out for 3 tbsp of salt and 1 tbsp of olive oil. Mix the two in a way that the texture is gritty and gel-like.
Now gently scrub your hands in circular motion. This is a great method to physically exfoliate your entire hand so that it remains soft, clean and sanitized!
Mask
Using a hand mask once a week can get rid of its tan and also restore youthfulness into it. Mix 50 ml of strong cooled chamomile tea with 4 tbsp of cornflour. You can choose to use a brush for an easy application.
While chamomile tea boosts collagen and helps fighting tan the cornflour prevents skin drying. Now to really lock in that nourishing mask, cling wrap your hands for about 15 minutes. Say hello to brighter, healthy hands!
Moisturizer
Our hands do most of our work and hence are left dry and dehydrated. To give it a good dose of moisture, take a pea-size amount in your hands and rub it evenly not leaving out space in between your fingers. Option for a non-greasy formula to avoid butterfingers!
Whiten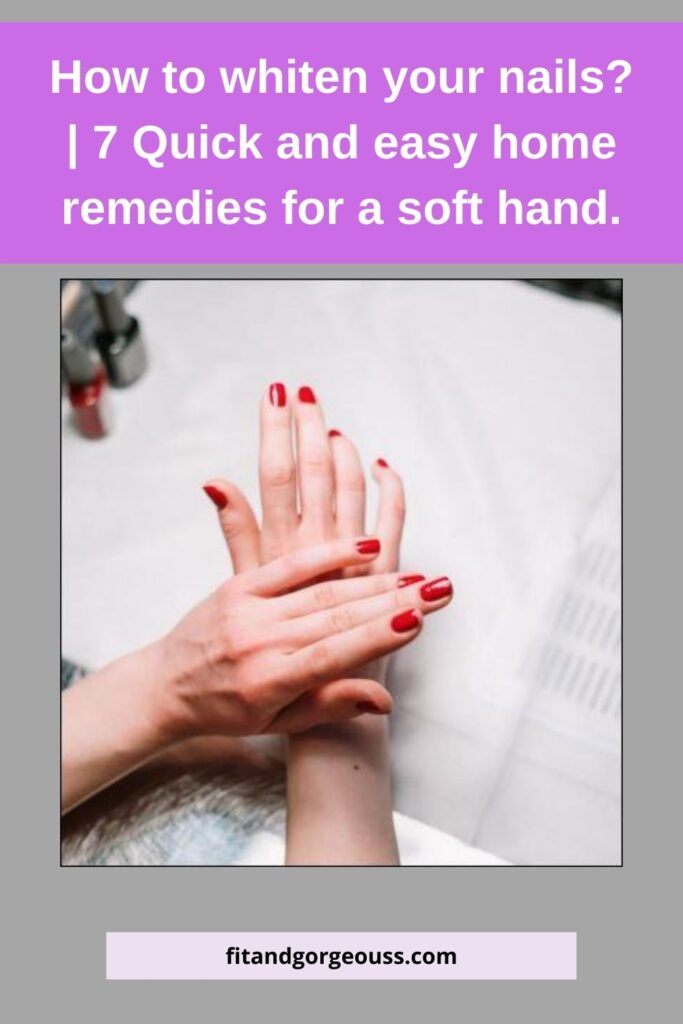 For picture-perfect white nails, all you need to do is mix equal portions of vinegar and lemon juice. Lemon has bleaching properties while the mild acid present in vinegar helps take off the stains on the nail's hard surface.
Soak your nails into this mix for a couple of minutes .
Now clean the insides of your nails using a cotton pad and as a last step spray some water. You'll see that the discoloration of your nails has completely vanished!
Boost Growth
Dreaming about those charming long nails ?
Mix one spoon of garlic paste to a cup of orange juice. Garlic is high in selenium, a deficiency of which causes weak nails in the first place. Mixing it with orange juice not only neutralizes the strong smell garlic can leave behind but is also filled with antioxidants that improve the overall quality of your nail's health.
Soak your nails for about 2 minutes and then use your fingers to scrub it in. After washing this off, dip each of your fingers into olive oil as this will help restore moisture. Now massage this not only into your fingers but your hands as well. This magic potion is an effective way to grow your nails at a much faster rate.
Cuticle care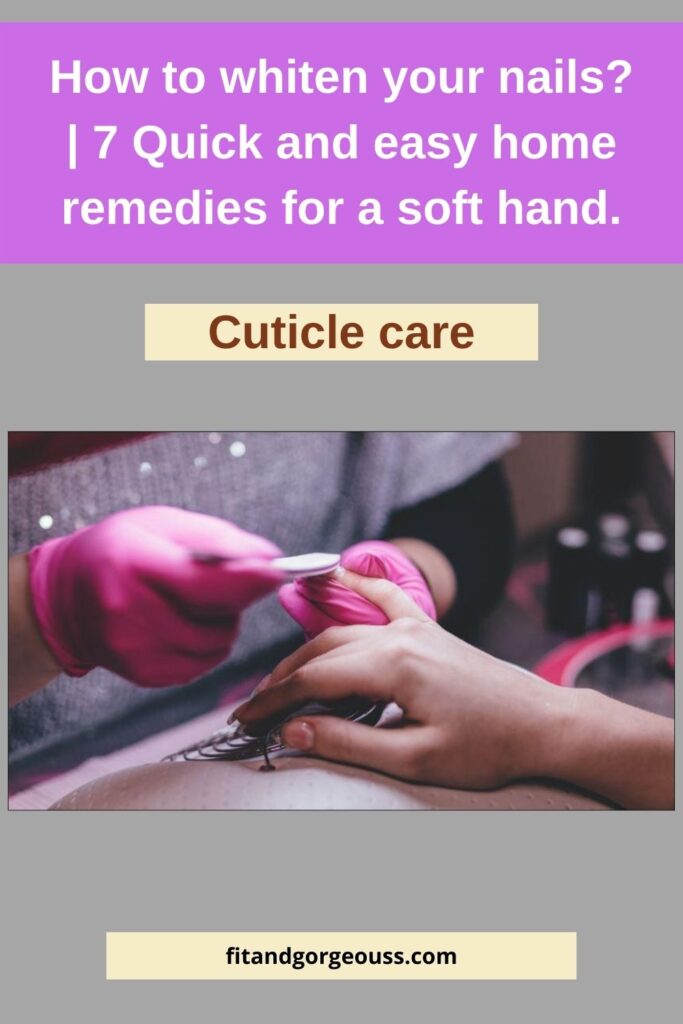 Dry cuticles are a visible sign of poor upkeep of your skin. All that you need to do is not spare more than 5 minutes a day to hydrate them.
Reach out for a hydrating cream and rub some gently onto your cuticles. So yes, after all, that we put our hands through, they deserve all the pampering in the world!
Do let us know in the comments below if you're going to make it a point to care for your hands. And until next time,
Stay Fit and Stay Gorgeouss!
Learn more about How to increase eyelashes growth? |11 Natural ways to lengthen eyelashes.
Thanks for reading on Fit & Gorgeouss
Read more on How to make soft hand – WikiHow
Share with one who really need to know this!